Monster Cookies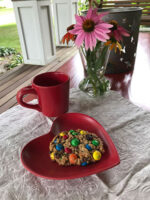 In cer­tain (rav­en­ous teen) cir­cles, I'm fair­ly famous for these. Makes a BIG batch–you can make the cook­ies them­selves what­ev­er size you like, how­ev­er. Giant Mon­sters or Small­er Mon­sters (you can eat more than one!) are both popular.
1 cup butter
2½ cups peanut butter
6 eggs
2 cups brown sugar
2 cups white sugar
4 tsp bak­ing soda
1 dash vanilla
1 table­spoon cinnamon
1 cup shred­ded coconut
8–9 cups oat­meal (not instant)
8 ounces minia­ture choco­late chips
LOTS of M&Ms
Using half peanut but­ter M&Ms is very nice.

This recipe is eas­i­ly halved to fit in your bowl or mixer.

Mix all ingre­di­ents in the order listed.

Scoop onto a cook­ie sheet and bake 15 min­utes or so in a 350 deg F oven.

You can also freeze dough balls and take them out and bake as you wish!