Around the Table That Grandad Built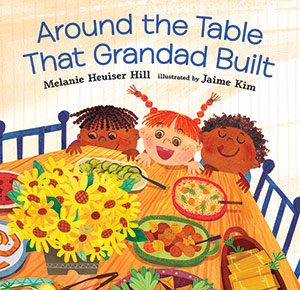 This is the table that Grandad built.
These are the sun­flow­ers picked by my cousins,
set on the table that Grandad built.

In a unique take on the cumu­la­tive clas­sic "This Is the House That Jack Built," a fam­i­ly gath­ers with friends and neigh­bors to share a meal around a table that brims with asso­ci­a­tions: nap­kins sewn by Mom, glass­es from Mom and Dad's wed­ding, sil­ver­ware gift­ed to Dad by his grand­ma long ago. Not to men­tion the squash from the gar­den, the bread baked by Gran, and the pies made by the young nar­ra­tor (with a lit­tle help). Serv­ing up a diverse array of dish­es and faces, this warm and wel­com­ing sto­ry is poised to become a savored part of Thanks­giv­ing tra­di­tions to come.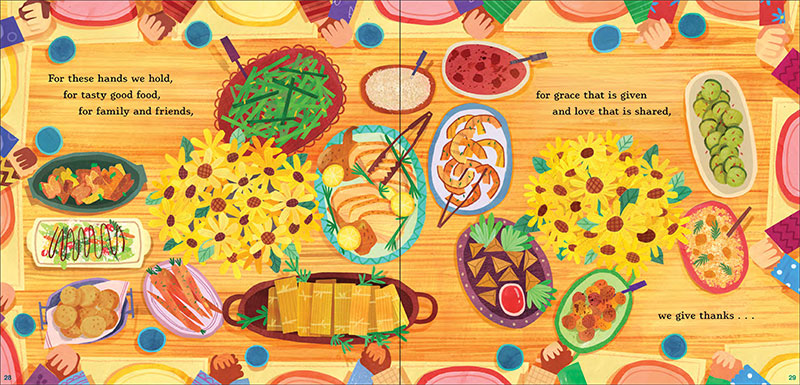 For these hands we hold, for tasty good food, for fam­i­ly and friends,
for grace that is giv­en and love that is shared, we give thanks …
Par­ents' Choice rec­om­mend­ed title
"A warm and wel­com­ing table." (Kirkus Reviews)
"For those who love mul­ti­cul­tur­al and multi­gen­er­a­tional themes, Around the Table That Grandad Built is a won­der­ful addi­tion to the home library. Equal­ly important—especially in this day and age—are the oppor­tu­ni­ties the book pro­vides to talk about essen­tial val­ues. Thank­ful­ness, hard work, love, and self­less­ness can be dis­cussed any­time you're around the table. Con­sid­er shar­ing for Thanks­giv­ing!" (Good Reads with Ron­na)
"The finale fea­tures pies, one of which the nar­ra­tor baked, and a lit­tle poem of grat­i­tude for 'grace that is giv­en and love that is shared.' The rhyth­mi­cal text and bright illus­tra­tions will enhance any Thanks­giv­ing or cel­e­bra­to­ry din­ner with fam­i­ly and friends." (Wash­ing­ton Par­ent)
The Story Behind This Book
The first line of Joy Harjo's poem, "Per­haps The World Ends Here" is a line that speaks to me at a deep level.
The world begins at a kitchen table. No mat­ter what, we must eat to live.
It was while mem­o­riz­ing this beau­ti­ful poem years ago that I wrote the ear­ly drafts of Around the Table That Grandad Built. I am a believ­er in the pow­er of shar­ing a meal, the impor­tance of kitchen tables, and the grace of gath­er­ing gen­er­a­tions of friends and fam­i­ly togeth­er with the excuse that we all need to eat. I'm with Har­jo that the kitchen table is where chil­dren are edu­cat­ed in what it means to be human—we absolute­ly make women and men as we pass dish­es around and but­ter the bread. I believe we humans need a place to sing with joy and sor­row, and to give thanks. A table is a good place to do that.
I love a well-set table. It doesn't have to be fan­cy, but I like for there to be col­or, his­to­ry, and good food placed on the table before every­one sits down. I enjoy "dress­ing" the table with col­or­ful linens…arranging the dish­es and sil­ver­ware … plac­ing flow­ers just so … light­ing can­dles …. I enjoy qui­et din­ners with just one or two fel­low din­ers, and I enjoy more eclec­tic and bois­ter­ous meals where peo­ple are squished togeth­er around the table and every­one brings some­thing to share. What can I say? I come from a line of women who delight in dish­es and nap­kins and food and gath­er­ing every­one up.
It was a joy to watch artist Jaime Kim make the words of this book come alive in the illus­tra­tions. The table she drew looks very much like our family's kitchen table, which she had no way of know­ing. She also could not have known how thrilled I'd be with the sec­ond to last spread—the table all set, seen from above, hands clasped around it, a feast ready to eat….
For these hands we hold,
for tasty good food,
for fam­i­ly and friends,
for grace that is giv­en
and love that is shared,
we give thanks….
As Har­jo says:
Per­haps the world will end at the kitchen table,
while we are laugh­ing and cry­ing, eat­ing of the last sweet bite.
May it be so, I say. May it be so.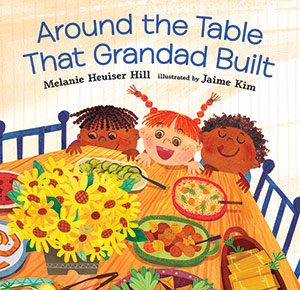 Melanie Heuis­er Hill
illus­trat­ed by Jaime Kim
Can­dlewick Press, 2019
ISBN 978–0‑7636–9784‑6
Read my Around the Table blog for sto­ries about tables, recipes, table graces, table set­tings, and more!
Enjoy this inter­view, look-behind-the-book, pho­tos, and recipe, all about the book, on Jama Rat­ti­gan's blog.